>>> Catalonia to host European Francophonie assembly summit in 2020 <<<
The summit includes 33 European parliaments, 22 of which are state parliaments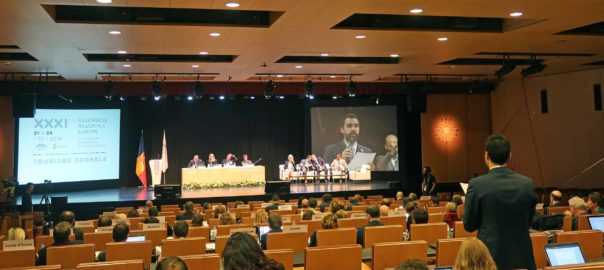 Francophone Parliamentary Assembly in Andorra, October 2018
The Catalan Parliament will host the 33rd edition of the European summit of the Francophonie Parliamentary Assembly in 2020. The candidature was unanimously approved on Thursday morning after being proposed by speaker of the Catalan Chamber, Roger Torrent.
Torrent is travelling to Switzerland to attend the regional meeting of the Assembly this year. He commented on the "diplomatic success" in hosting "one of the most important entities in the world that brings parliaments together." The summit includes 33 European parliaments, 22 of which are state parliaments, such as France, Belgium, Croatia and Greece, so they are not only chambers of Francophone countries, but of territories somehow linked with such lands. "It is a crucial element to helping us feel and express the voice of Catalonia," added Torrent.
Catalan Parliament
This year's edition of the summit is being held in Délemeont, in the Swiss Canton of Jura. Torrent will attend the session on the "Right to self-determination of people as a legal principle: status of the situation in Europe," to be held on Thursday afternoon. The Catalan independence crisis and conflict with Spain has been discussed by many of the parliament representatives in the morning sessions.
Torrent believes that "Catalan Parliament must play a key role in the international agenda of the country" and stressed that the hosting of the next European summit in Barcelona will contribute to "the ability to speak on fundamental rights, parliamentarism and in short, democratic values." He also recalled that the summit will coincide with the 40th anniversary of the democratic restitution of Catalan Parliament in 1980 after the end of the Franco dictatorship.
The Catalan Chamber has been an observing member of the Francophone Parliamentary Assembly since 2008, when their membership was approved in a session in Quebec after an iniciative from Catalan president at the time Ernest Benach. Benach stressed back then that "Catalonia shares the values and objectives of Francophonie," and also cited the "historic links" between Catalonia and Francophone countries.